2 Days Gorilla Trekking Safari Uganda (Safari Overview)
This 2 days Uganda gorilla tour starting from Kigali  is designed for visitors who prefer to use the shorter route to Bwindi from Kigali Rwanda instead of the 9 hours journey from Entebbe international airport in Uganda. The journey begins from Kigali in Rwanda to Bwindi though the Katuna border then to the beautiful Kigezi highlands in Uganda and finally to Ruhija in Bwindi.
2 Days Gorilla Tour in Uganda takes you to Bwindi Impenetrable forest for an amazing time observing wild mountain gorillas. Bwindi Impenetrable National Park is located in the south-western part of Uganda along the edge of the great Albertine rift. Bwindi forest is thought to be a remnant of a vast forest that once covered most of Rwanda, Burundi, Uganda and the Democratic Republic of Congo. As a UNESCO World Heritage Site,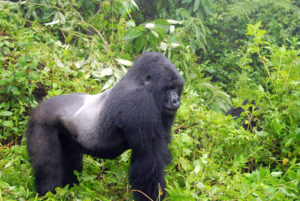 Bwindi is blessed with incredible biodiversity. The park has 160 tree species, 100 of ferns and countless butterflies. Bwindi is home to chimpanzees, forest elephants, antelopes, Colobus and l'Hoest's monkeys. Among the bird species are the African green broadbill, the Chapin's flycatcher, the Grauer's swamp warbler, Shelley's crimson-wings and Turner's Eremomela. Of all the amazing things that the park has to offer, mountain gorillas seem to have stolen all the show. Bwindi Impenetrable National Park is special among the mountain gorilla parks because it is the only place where one can also see chimpanzees. Bwindi Impenetrable national park is managed by the Uganda Wildlife Authority (UWA). UWA has had to deal with challenges of forest encroachment and small scale poaching of forest creatures by communities living close to the national park. This is one of the reasons why the Batwa pygmies were evicted from the forest.