The main activities during this 3 days Uganda gorilla tour are: –

Bwindi Gorilla Trekking
Visit to the Batwa Pygmies cultural village
3 Days Uganda gorilla trekking in Bwindi starts and Ends in Entebbe or Kampala. It involves experiencing a cultural tour to the Batwa pygmies – The Batwa pygmies were the original inhabitants of the Bwindi impenetrable forest park before they were relocated elsewhere to gazette the forest for mountain gorilla conservation.
Bwindi Impenetrable National Park is found along Uganda's border with the Democratic Republic of Congo and next to the Virunga National Park. The park was declared a UNESCO World Heritage Site because of its biodiversity and importance to overall ecology. It is a water catchment area that feeds off numerous rivers and lakes. Bwindi forest covers an area of 124 square miles of lowland and montane forest. These vast forests are home to 163 tree species, 348 species of birds and 120 of mammals. Among the mammals in the park are chimpanzees, civets, elephants, giant forest hogs, golden cats, Colobus monkeys, red-tailed monkeys, L'Hoest's monkeys, stripped jackals and mountain gorillas. The key bird species are the cream-banded swallowtail and African green broadbill. Half of the world's population of mountain gorillas are found in Bwindi impenetrable forest and Mgahinga National Park in Uganda. The 
other half are found in Virunga National Park in Congo and the Volcanoes National Park in Rwanda. Bwindi is the only park where both chimpanzees and mountain gorillas are found. There are currently 15 habituated gorilla groups open to gorilla trekking in Bwindi. Bwindi is special from all the other mountain gorilla parks because visitors can take part in a 3 days gorilla habituation experience. This experience gives visitors more time with the primates and with very knowledgeable international researchers.
The mountain gorillas in Bwindi have been found to feed on more fruit than those in Virunga National Park. If you are conversant with some facts about mountain gorillas by now, you will agree that Silverbacks rarely climb tries. Well it turns out that it isn't always true. Mountain gorillas in Bwindi climb trees more frequently than those in Virunga national park (including the large silverbacks). Whereas gorillas in Virunga make their nests on the ground, those in Bwindi have been found to build some of theirs on short sturdy trees. Mountain gorillas in Bwindi are also more mobile. This is attributed to the fact that they feed a lot on seasonal fruits.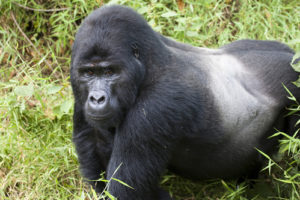 Though the overall population of mountain gorillas are growing and are now over 1,000, they remain endangered. Protecting them is very important because Mountain gorillas have not been known to survive in captivity. An attempt was made to keep them in enclosed facilities in the 1970's but no infant survived. None of the adult gorillas survived for long in captivity. Only lowland gorillas have been found to thrive in captivity. Because of their fragile nature and economic value, mountain gorillas are highly protected. Like we already mentioned, the government of Uganda evicted the Batwa pygmies away from Bwindi and Mgahinga national park just to create more room for the mountain gorillas.
Gorilla trekking in Bwindi Forest offers visitors 11 gorilla families to choose from. As already noted, visitors to Bwindi have a unique option of taking part in the mountain gorilla habituation experience. During this special treat, visitors are allowed 4 hours with a gorilla family in the jungle unlike the standard one hour with the gorillas.