3 Days Queen Elizabeth Safari will give you an opportunity to spot Africa's top mammals, beautiful forests, sprawling savannah and stunning landscapes. Queen Elizabeth national park is found in the western part of the country and was named after Queen Elizabeth II in 1954. The park is found in an area covering over 1,900 square kilometers and has two Lake Craters Edward and George which are connected by the Kazinga channel. Queen Elizabeth is Uganda's second largest and most visited park. The park lost many animals during the liberation war that toppled Uganda's famous dictator Idi Amin Dada in 1979.  However the population of animals is back to where it was with 95 species of mammals which include buffaloes, hippos, Elephants, warthogs, African lions, hyenas, cave bats, leopard, crocodiles, bush pigs and antelopes like the Uganda Kob.
Queen Elizabeth National Park is famous for the Tree Climbing Lions of Ishasha, boat cruising along the kazinga channel and chimpanzee trekking in the Kyambura gorge and Maramagambo forest. The park has over 550 species of birds and butterflies.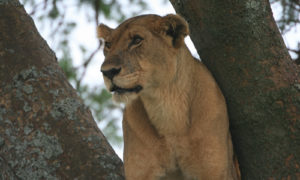 During a Uganda wildlife safari to the park, you can see the Rwenzori maintains which has snow-capped peaks and glaciers on the horizon. The best time to visit Queen Elizabeth national park like most parks in Uganda is just after the rains have stopped and the vegetation is still perfect green. If you are interested in more time with the tree climbing lions, you might want to check our our 4 Days safari in Queen Elizabeth National Park package. We have a longer 5 days Queen Elizabeth wildlife safari package.
Safari highlights
Head to  Queen Elizabeth National park
Visit the equator
See Lake Katwe's Salt mining industry
Go on a Game drive
Afternoon boat cruise at the Kazinga channel
Head back to Kampala